article and photographs by Richard Carleton Hacker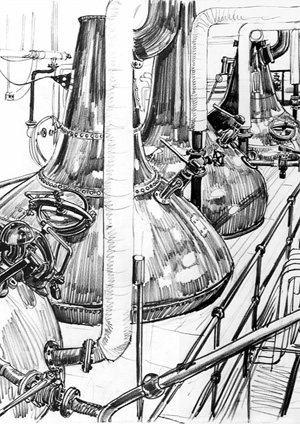 The copper pot stills used to make Knappogue Castle, as depicted by noted Irish artist Raymond Piper, whose portraits of the Andrews family hang in their castle.
The Irish are justifiably proud of their whiskeys, and order them by brand, usually neat – without ice – with a jug of water to open the bouquet. But it would be a crime to dilute Knappogue Castle with water. Unlike most Irish whiskeys, Knappogue Castle is not a blend. It is a vintage-dated malt whiskey from a single distillery and deserves to be savored for its own pot-distilled purity. Unfortunately, it is difficult for many Americans to emulate the Irish and order Knappogue Castle by name, because few can pronounce it. Simply say "nah POG."

Knappogue Castle lies in the west of Ireland, and dates from 1457. Like so many of Ireland's fortresses, it had fallen into disrepair until the 1950s, when it was purchased by an American entrepreneur named Mark Edward Andrews, whose wife lovingly restored the castle to its former glory.

A true laird of the manor, Andrews began stocking his castle with the best casks of whiskeys. During the 1960s, he obtained some barrels from the shuttered B. Daly Distillery. This prized 1951 vintage had been made the traditional way, pot distilled with malted and unmalted barleys, then aged in sherry barrels.

In 1987, Andrews' son – also named Mark - felt this great whiskey from his father's collection, having aged for 36 years, had reached perfection. He bottled the scant supply, releasing a few hundred bottles each year. Copper gold in color, its sherry heritage gives the 1951 Knappogue Castle a heavier complexity than most Irish whiskeys. It hugs the palate with firm flavors of licorice, caramel, and crusted bread and finishes with a thick, honeyed nectar. Today, the remaining individually numbered bottles of 1951 Knappogue Castle, priced at $800 each, are coveted by those collectors who want a special whiskey for a special occasion.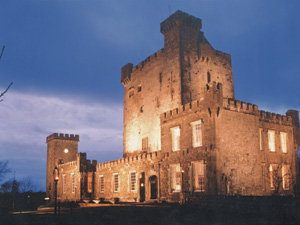 The whiskey's namesake, Knappogue Castle, in County Clare, Ireland.
Mark Andrew's more recent, vintage dated Knappogue Castle Single Malt Whiskeys are more accessible and affordable at $34 a bottle. Pot-distilled and aged in bourbon casks, these golden-hued libations are lighter in texture. Owing to its vintage character, each year is slightly different. The first vintage was released in 1990, after having been aged for 8 years, and interestingly, was double distilled, as was the 1991 offering. My first discovery of Knappogue Castle was the triple distilled 1992 vintage, and I went on to seek out and savor the nine-year-old 1993 vintage as well, which was released in 2001.

But for me, the best vintage to date is the currently available 1994, an 11 year old whiskey triple distilled and slightly chill filtered, like the previous two vintages before it. It was bottled in 2005. Citrus and apple aromas frolic playfully in the bouquet, while each sip brings apple cider-soaked bread to the tongue, with a drop of honey in the background. The finish is delicate yet lingering, like the memory of a kiss.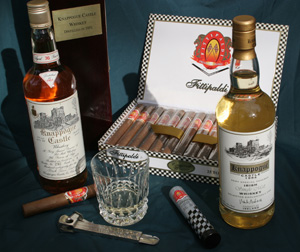 The smooth tastes of Knappogue Castle and Fittipaldi Gold Series cigars are a winning combination.
A whiskey this ethereal requires an equally refined cigar, such as the new Fittipaldi Gold Series, named after Brazilian Formula One and Indianapolis racing champion, Emerson Fittipaldi. The colorful band reflects many of the high-revving highlights of Fittipaldi's career: the prominent oval represents Fittipaldi's win in the 1989 CART PPG IndyCar World Series and the crossed checkered flags signify his Indianapolis 500 victories in 1989 and 1993 as well as his Formula One championships in 1972 and '74. Fittipaldi has a say in the selection of every leaf that goes into his namesake cigars. Each is methodically handcrafted in the Dominican Republic by Augusto Reyes of De Los Reyes Cigars in Santiago, and cedar-aged for 60 days.

With its four-year old Ecuadorian-grown Connecticut wrapper and Dominican and Havana seed filler, the Fittipaldi Gold Series starts out with a well-tuned, full throttle flavor and continues to smoke with a medium-strength spice right to the finish line. It is a perfect match for the 1994 Knappogue Castle.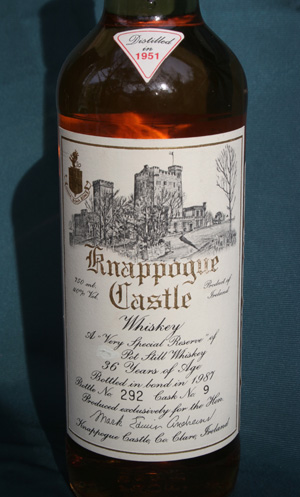 The 1951 Knappogue Castle is the last of Mark Andrews' original whiskey collection. Each bottle is individually numbered, and it is most likely the oldest and rarest Irish whiskey in the world.
To experience different Knappogue Castle vintages with Fittipaldi cigars, a special Collector's Series bottle comes with a neck tag holding a 50 ml. bottle of either the 1992 or 1993 vintages, which are no longer available in the larger sizes. Or one might want to pair the Fittipaldi Red Series, with its maroon wrapper, with the scarce 1951 vintage. After all, in the spirit of this month, which encompasses both St. Patrick's Day and the Academy Awards, Irishman Oscar Wilde once said, "Anyone who lives within their means suffers from a lack of imagination."

That certainly holds true when it comes to pouring a snifter of the finest vintage Irish single malt whiskey to ever come out of a castle.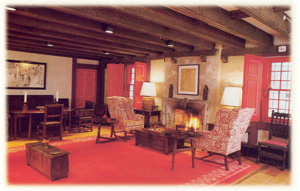 The interior of the castle is the perfect setting for a glass of Knappogue Castle vintage whiskey.